ATM Acquiring as a Service
Modern transactional support
For financial institutions or third-party processors that acquire ATM transactions, our ATM module enables the efficient servicing and monitoring of fleets consisting of a diverse range of ATMs and self-service kiosks. BPC provides a sophisticated ATM management service that delivers real-time view of network operations 24/7 and supports lots of modern transaction types, such as fast cash, configurable withdrawals, deposits and cash-ins, currency conversions, balance inquiries, mini-statements, utility bill payments, mobile top-ups, cardless transactions with QR, bar codes or SMS OTPs, fund transfers and much more. ATM scenarios could be fully customised in order to meet the needs of a specific customer.
Build the hierarchy chain
Our ATM acquiring service is designed to meet the specific needs of your organisation, no matter how complex your hierarchical institution and agent structures may be. With BPC, you have the flexibility to configure your ATM scheme in a way that matches your unique organisational structure, including assigning ATMs to different bank branches as needed. The service is capable of working with multiple institutions, and configures different acquiring fees and transaction restrictions based on each individual institution's requirements, such as setting up banks with their own operating parameters, as well as incorporating special charges and fees for each institution.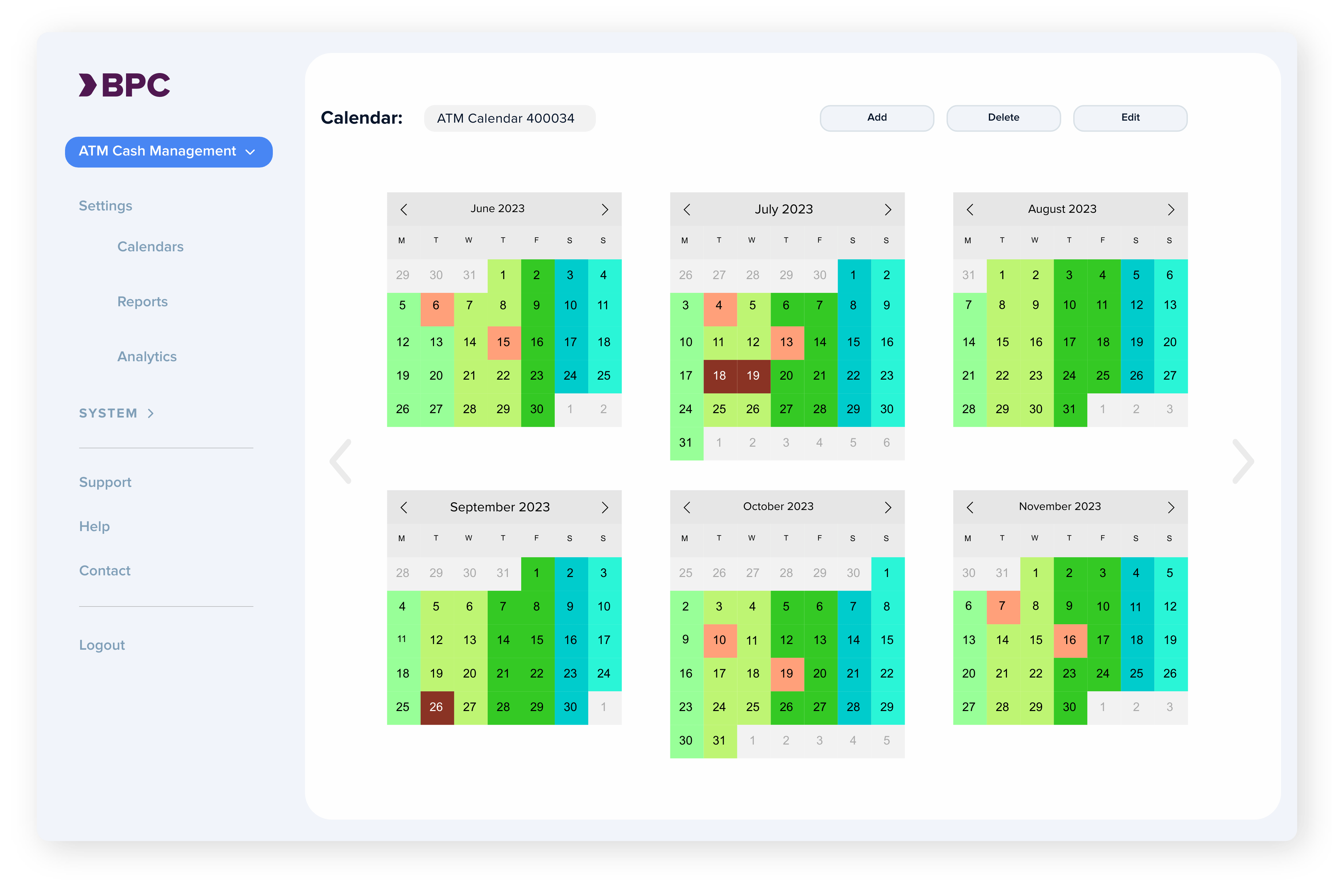 Remote control and management
Monitor and change the parameters of your network on request. You don't just adjust preset parameters but also add new parameters remotely and change ATM configurations in real-time, with flexibility to issue commands to individual ATMs or groups of ATMs or to synchronise information between ATM devices and your front-end. Also with remote key loading (RKL) functionality you are capable of significantly reducing terminal deployment timeframe and reducing operational and security risks.
Zero maintenance
Time is money, nobody can afford a non-operational terminal. We collect data on ATMs' status, main parameters, and error messages and deliver insights and alerts on those ATMs that require replenishment or those having technical issues. The solution generates immediate alerts (SMS and email) when issues are detected so no time is wasted.
Speed to market
Whether creating a special screen design to match a direct mail campaign or to promote a new product, our ATM acquiring system provides configurable external and internal interfaces which increases your speed to market of new products


ATM Acquiring as a Service
Making a difference
Highly-available and fault tolerance
Flexible support options
Manual and electronic data capture
Support for major ATM manufacturers & financial protocols
Flexible configuration and dynamic screen display
ATM network management
Remote key loading
Working for you
Range of acquiring management features
Transaction features
Easy launch of new services
Working for your customers
Built-in dispute manager
Multilingual user interface
Acceptance of QR, bar, and card payments
Virtual cards issuance