Fraud Management as a Service
Know your enemy…in real time
Fraud is omnipresent and unfortunately part of life. BPC takes fraud prevention to be a vital component of a services offer.
We therefore combine all of the key methods of handling fraud across all entities in the chain, all channels and in real-time. While protecting all of the channels, receive all of the data in the dashboard in real time. Know your enemy.
Best "face control"
BPC offers a comprehensive fraud detection that provides robust capabilities to secure all transactions and operations for your business, through performing on-line, near real-time, and batch fraud scoring, enabling to quickly identify and block fraudulent activities as they happen.
We harness the power of advanced machine learning algorithms and behavioural analytics. Our sophisticated system delves into enormous volumes of data, identifying suspicious patterns and irregularities in real-time.
With BPC's Fraud Management as a Service, you get the best of both worlds - the peace of mind that comes with top-tier protection and the competitive edge from staying one step ahead of fraudsters.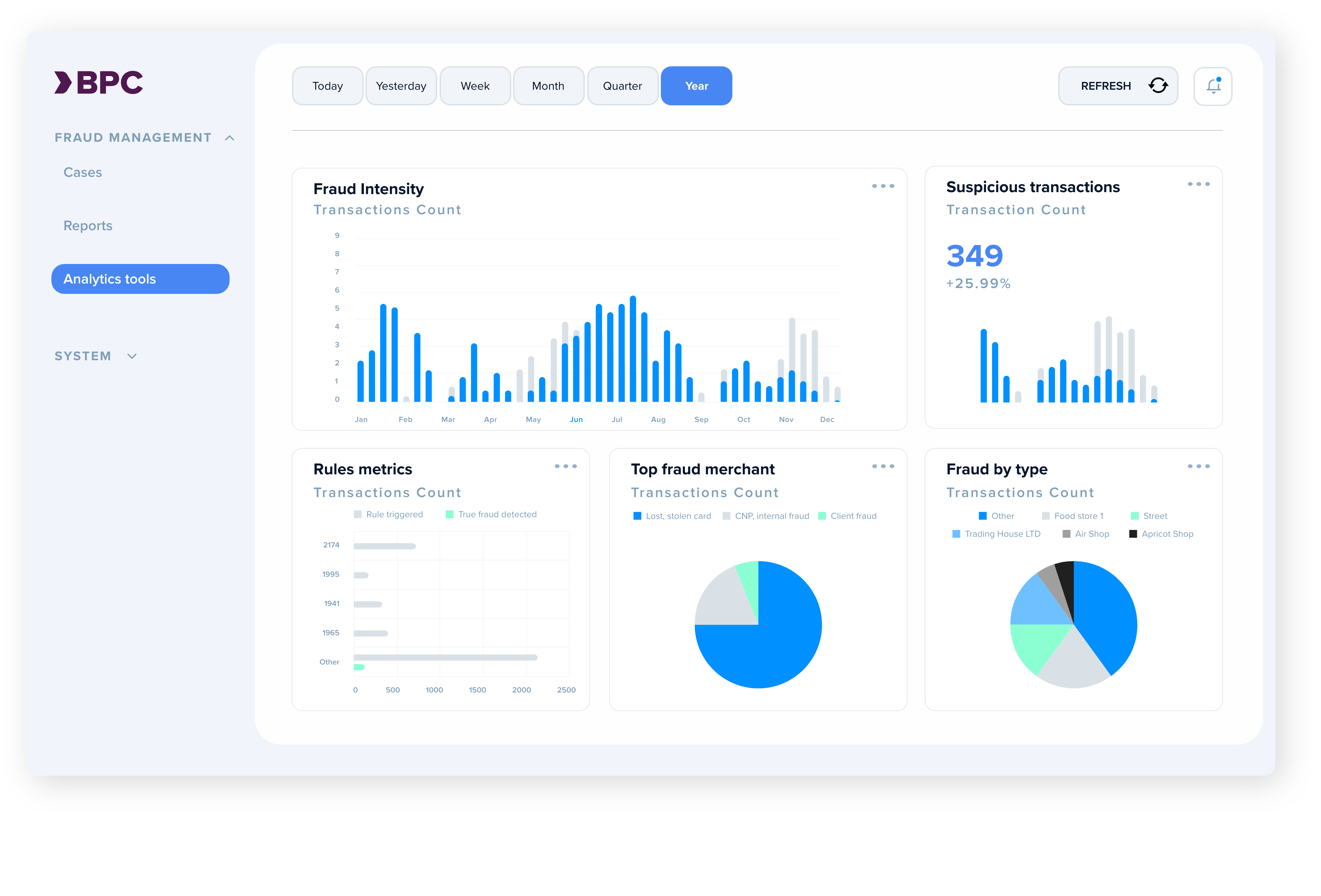 RBA and TBA support
BPC offers cutting-edge Risk-Based Authentication (RBA) and Transaction-Based Authentication (TBA) methods that ensure the highest level of security for all your online transactions and operations.
Analyse account transaction history to determine the risk level of each transaction and apply additional security measures when necessary or provide your customers with authentication code with every transaction, ensuring maximum security.
Be Alert
Stay one step ahead of fraudsters with BPC's advanced Alert feature for fraud prevention. Receive real-time notifications whenever suspicious activity is detected, and take immediate action to prevent fraudulent transactions.
Expand it
Expand the safety of many institutions simultaneously. Manage fraud prevention across multiple institutions and gain a holistic view of your entire business. Share data and insights between institutions, improving your ability to detect and prevent fraud at every level.
Enjoy end-to-end service
Going SaaS possesses lots of benefits such as quick onboarding, cost-effectiveness, and end-to-end service. You can start using the software right away, save money by paying only for what you need, while BPC supports you on your journey.
Fraud Management as a Service
Making a difference
Multi-institutional approach

Omni-channel solution

Real-time monitoring

Interfaces ISO-8583, SOAP, HTTP/JSON, XML

E2E service
Working for you
Business-driver rules
Secure PA-DSS validated
Alert generation
Comprehensive analysis
Custom configured fraud lists
Working for your customers
Multiple validation rules
RBA and TBA support
Quick onboarding