Ever since the rise of real-time payment schemes around the world, instant payments - with not only direct initiation but also direct execution and settlement - have grown at an unprecedented pace. One only needs to look at what instant payments have done in India on the back of the UPI scheme. With settlement times of five seconds or less, it is easy to see how they are invading the traditional cards market share.
Consumers benefit, but small businesses even more. Request to Pay solutions too are built on the back of instant payments. They are here to stay and grow. Banks and PSPs need to embrace incoming and outgoing payments in real-time and connect them to their transaction banking platforms. It is therefore that SmartVista offers a scheme agnostic solution,enabling the connection to any instant payment scheme.
More than a payment - data puts instant on steroids
Real-time payments are great in terms of instant settlement, but the true value lies in connecting that payment to smart data. Think embedded payments without a POS device, in store or online where an entire eCommerce transaction is finalised with instant payments.
In the commercial world we see developments where duties are settled 24x7 independent of the availability of a customs officer, letters of credit attached to larger instant payment for critical shipments. Think adding a bill to instant delivery of food supplies to hotels and restaurants, enabling drivers to work faster and be safe without the need to carry cash.
SmartVista Instant Payments allows for the integration of real-time payments to a wide range of data sources through APIs. Together this forms a sound foundation for future facing digital banking.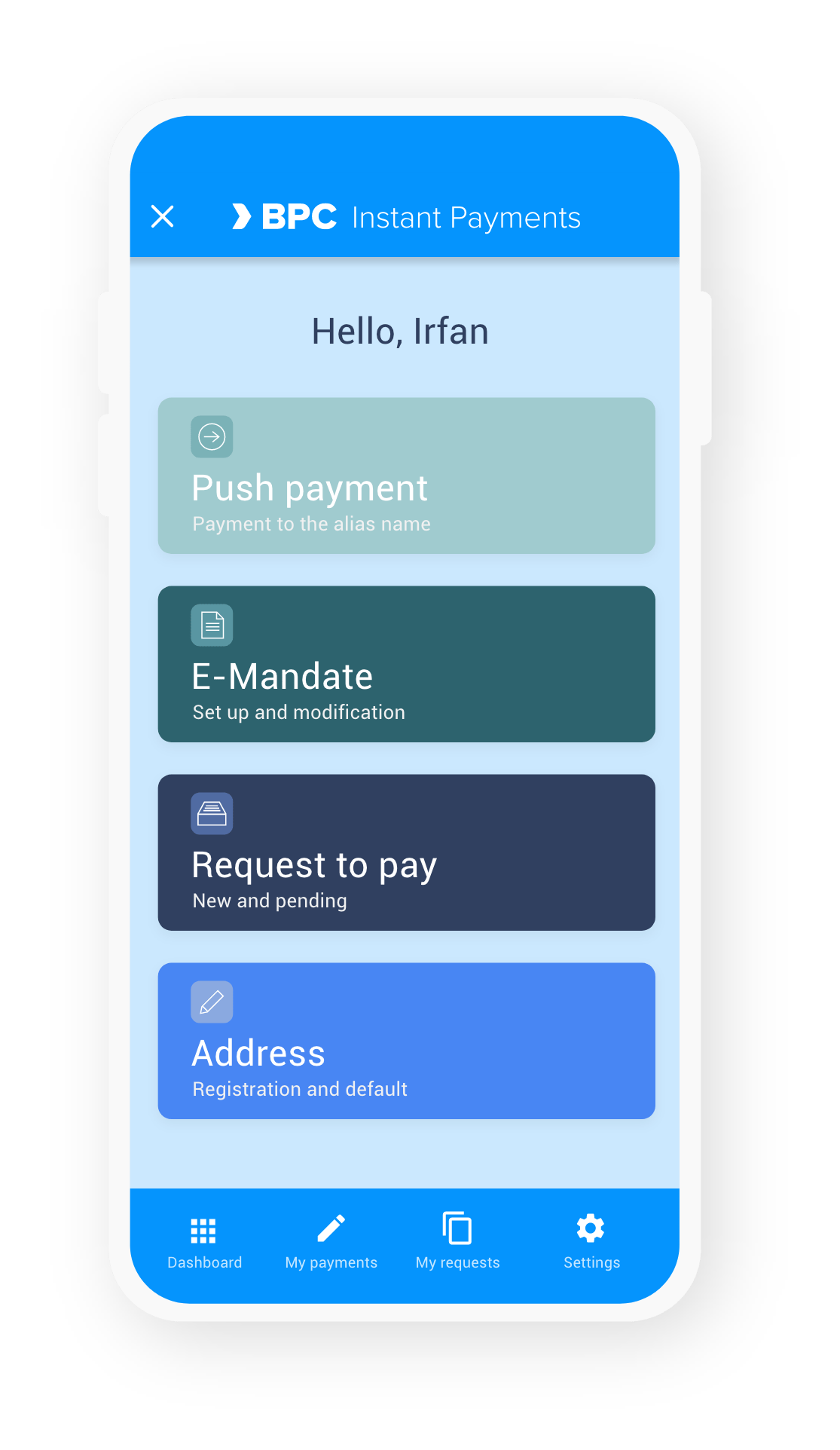 Instant payments - instantly deployed
When entering the market with real-time payments, time is of the essence.
SmartVista Instant Payments has been designed to integrate into virtually any infrastructure. Implementation is speedy for a range of pre-configured online, offline and near real-time options are live today to integrate with core banking, channels but also affiliate solutions like sanctions screening, business activity monitoring and other solutions.
Having implemented instant payments around the world is an additional benefit in that experience counts for a lot when needing to 'travel fast'.
Full circle instant payments support
The system allows for end to end processing of both inbound and outbound instant payments.


Pre-configured for 'instant' integration
Speedy implementation is key, so a range of pre-configured assets are ready to connect you to any core, mobile banking, fraud, AML or other affiliate system. A range of APIs as well as full PSD2 readiness enable you to add value from the moment of launch.
Ready for any eventualities
Support for recalls and returns ensures all payments are handled appropriately. Time out management makes sure payments are picked up, checked and executed at the earliest instance.
Multi CSM and message format support
The system is scheme and CSM agnostic and supports the most up to date range of real-time payments schemes live in the market today.
SmartVista Real-time Payments
Making a difference
Established consultant to instant payment schemes
Wide and tested connectivity to central bank interfaces
Broad experience in IPS schemes globally
Working for you
Push and pull support
Sophisticated realtime fraud prevention (SCA)
Flexible configuration of payment flows & online editing
Working for your customers
Online limits and fee calculation
Fully API enabled and PSD2/ UK Open Banking ready
Mission critical updates and upgrades without service interruption
Case Studies in real-time payments