POS Acquiring as a Service
Scale up your transactions
Whether you are a PSP, merchant or TPP it always comes to cost efficiency. BPC offers a terminal network management service allowing you to focus on your core operations while BPC takes care of payment infrastructure. BPC is able to remotely manage and operate terminal EFT/POS networks, ensuring smooth and efficient transactions for customers, be those purchase, tip adjustments, cashback, reversals or refunds, DCC or utility payments or other operations.


Network enhancing
BPC offers a seamless terminal registration process that can be completed through applications during merchant on-boarding or at any time thereafter. Any type of terminal could be connected be it Classic EFT/POS, Smart POS, mPOS or SoftPOS. Once registered, terminals are immediately available for transaction processing. Whether registering terminals at the top level of the merchant hierarchy or at a lower level, it is possible to configure rules, addresses, statuses, fees, currencies acceptance, attributes connectivity and other parameters.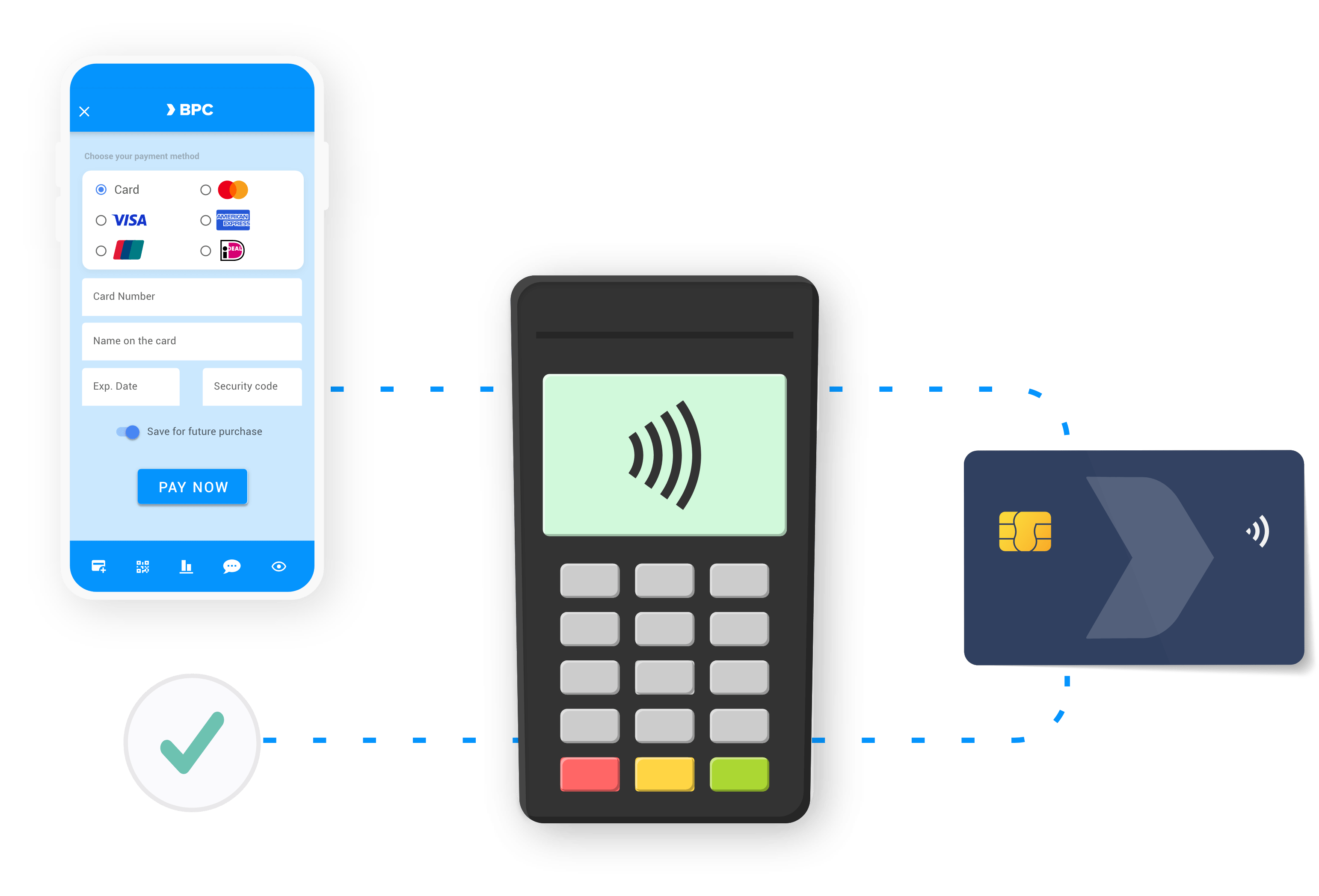 Tap to Phone
No matter the business, our solution lets merchants turn their smartphone into a business hub. With no need to invest in costlier EFT/POS terminals, they'll be saving money as they make money. With it merchants can accept any contactless payment method: contactless EMV cards, NFC devices such as smartphones, smartwatches, tablets, and QR codes turning own mobile phone or tablet into a terminal.


Web-based portal
The success lies in a quick and effective way of communication with your merchants that's why we offer a comprehensive solution that allows acquirers, PSPs, TPPs to effortlessly manage every aspect of the merchant relationship. Web-based portal streamlines information for merchants through an application, making it easier than ever to manage all data, change parameters and monitor own performance.
Acceptance of various payment methods
BPC's state-of-art transaction processing platform supports various payment schemes from traditional Visa, Mastercard, Amex, Cup, JCB, Diners to local or niche ones in addition to all types of cards and alternative payment methods allowing merchants to extend its capabilities and offer acceptance of any familiar payment scheme for its customers.
Better settlement experience
Making settlements quick and easy is part of the offer. With BPC SmartVista e-commerce provides functionality for real-time settlements, reconciliations, and merchant dispute resolution, allowing to create billing processes tied to merchant's needs. The platform simplifies your financial transactions, ensuring accurate and timely operations, such as on-demand or end of the day payouts. Offer 24/7 funds transfers to merchants and their customers providing a better settlement experience, while leverage on configured automated workflows to ensure effective dispute resolution process.
Reconciliation
Keep your merchants accounts clean and up-to-date with a built-in reconciliation tool that helps to compare the transaction of the POS terminal and online host.
POS Acquiring as a Service
Making a difference
API based merchant onboarding & management
Rich set of supported devices
White-label SoftPOS
Web-based merchant portal
Embedded fraud prevention
Support for more than 25 POS vendors & models
Flexible configuration and dynamic screen display
REST/JSON APIs
Working for you
Range of acquiring management features
Quick access to data
Parent-child hierarchies with configurable fee management
Support for non-financial transactions
Safe and secure transactions
Fast and easy integration with national switches
Merchant data management
Terminal status and data
Working for your customers
Quick onboarding
Acceptance of various payments medias - cards, devices, wearables, QR
Acceptance of QR, Bar, Card payments
Processing of all international payment schemes
Monitoring services of network
Reporting
Payment API