In a study by the Aberdeen Group in North America, the cost of printing cheques by banks is more than $25 billion per year. How to reduce this whopping cost of printing cheques? It is simple, stop printing them. Switching to electronic payment cut down the use of paper for banking
Multiple payment networks and schemes
As part of our comprehensive switching as a service solution, we ensure that your transactions are processed seamlessly and securely, providing a hassle-free payment experience for both you and your customers. You can choose from a variety of payment interfaces, including the most popular ones: Visa, Mastercard, American Express, Discover, CUP, Diners Club, Pulse, SEPA and JCB as well as any local network. Our solution allows you to customise your payment flow based on your business's unique needs and preferences, making it easier than ever to manage your payment processing.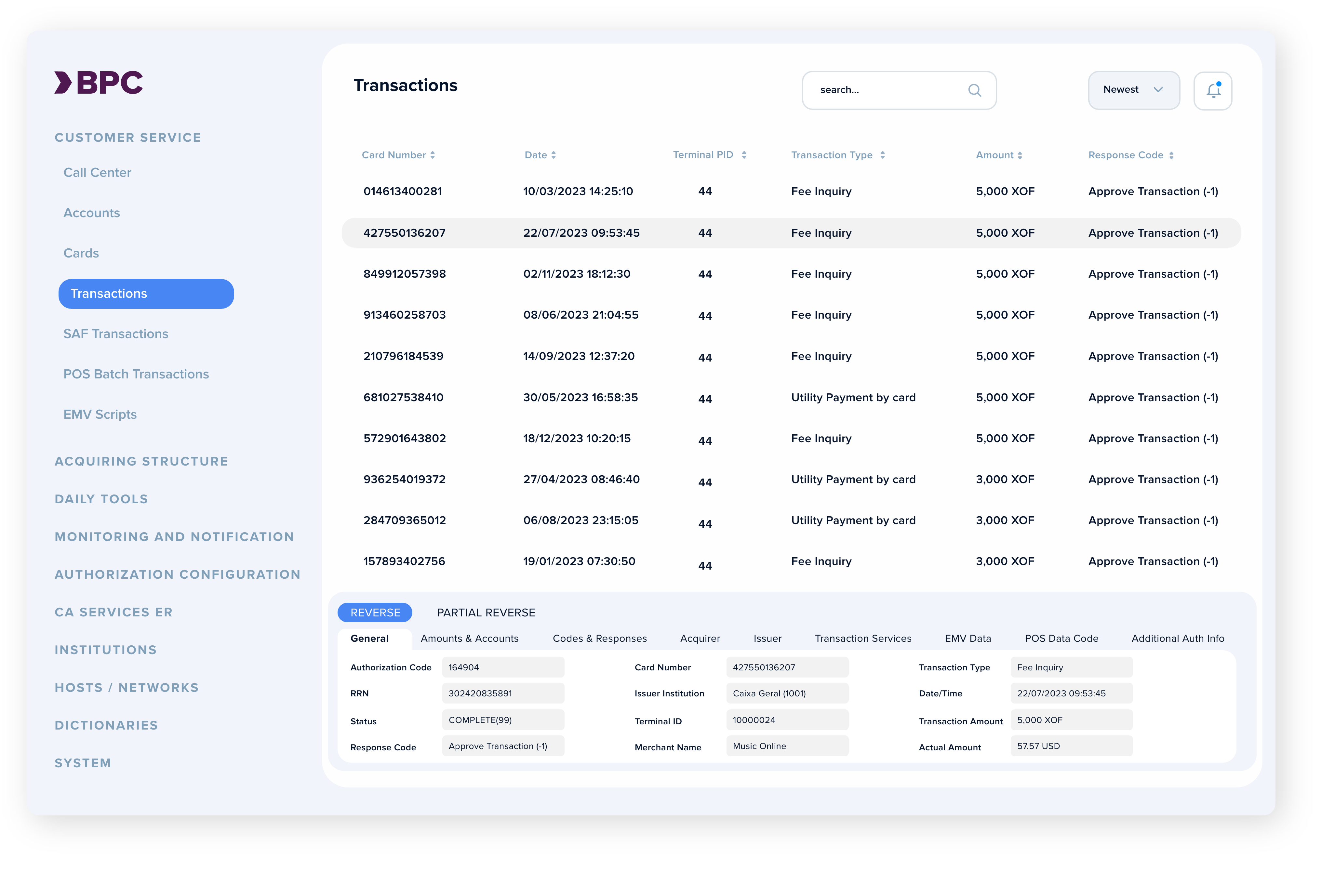 Transactions with no delays
BPC offers cutting-edge technology that allows flexible routing for you to customise your processing flow to fit business's unique needs be it us-on-us, them-on-us, us-on-them or them-on-them. Process your transactions quickly and securely, freeing up time and resources to focus on what really matters - growing your business. Our solution ensures that your transactions reach their intended destination, whether it's issuers, regional payment networks or international payment networks. With SmartVista, you have the flexibility to configure multiple parameters that determine the routing of your transactions such as Bank Identification Number (BIN), Acquiring Financial Institution Identifier, and Issuing Financial Institution Identifier, Bin range, transaction type, service type, terminal group, mcc group, and more.
Scale to any channel
Beyond card and any digital and contactless payment form, we offer acquiring services and solutions for both the merchant, fintech, banks, PSPs in terms of cards, POS/SoftPoS, e-commerce as well as in the form of (customised) ATM offerings. Because of our longstanding track record in this field we can offer these services in literally any corner of the world, from digital dense environments up to solutions for rural ecosystems.
Regulatory framework support
We offer a full range of payments from ISO8583, direct debits, account-based payments, SEPA transfers, BACS, CHAPS, Swift to instant payment support. Increasingly this becomes the payment type of choice for merchant customers of PSPs for the low cost attached and the certainty of instant receipt of funds. The entire payment suite is fully PSD2 ready, API enabled and supports SCA. ISO20022 messaging is fully supported too for Pull, Push and Service messages.
Keep it flexible
Our Switch solution supports normal authorisation, which is responsible for card-related checks and stand-in authorisation on behalf of your CBS. Our service allows you to stay flexible if you wish but configuring your own set of authorisation checks, or go with a preconfigured algorithm suggested by our experts.
End-to-end service
Going SaaS possesses lots of benefits such as quick onboarding, cost-effectiveness, and end-to-end service. You can start using the software right away, save money by paying only for what you need, while BPC supports you on your journey.


Making a difference
Transaction processing
Flexible routing
Global and local schemes and interfaces
E2E service
Working for you
Online acquirer and issuer fee calculations
Limit control
Reduction in costs
Stand-in support
Working for your customers
Flexible authorisation modes
Any payment scheme acceptance
Quick onboarding