See all press releases
September 4, 2023
BPC highlighted in New Report by Chartis Research on Enterprise Fraud Solutions in 2023
Switzerland/London, September 05, 2023: BPC, a global specialist in payment solutions, has been recognised as an international category leader in the prestigious Enterprise Fraud Solutions 2023 report by Chartis Research, the leading provider of research and analysis in global risktech and fintech.
The report by Chartis examines the tremendous challenges faced by global financial service providers as they battle complex fraud in an increasingly digitised world. It also looks at the payment technologies that can help to mitigate risk, including those offered by BPC.
Banks and financial institutions worldwide are grappling with the escalating threat of digital fraud, which has far-reaching implications for their operations, customer confidence, and adherence to regulations.
The menace of identity theft looms large, with fraudsters leveraging easily accessible personal data online to impersonate individuals, leading to unauthorised account openings and financial misdeeds. Account takeovers have become alarmingly frequent, and the payment card fraud problem persists. Fraudsters are also capitalising on phishing and social engineering methods.
According to the report, BPC has firmly established itself as the category leader in the realm of fraud prevention, boasting advanced proprietary fraud-detection methodologies, extensive behavioural monitoring, libraries of pre-packaged fraud rules, and superior case management, workflow, and transaction monitoring systems.
"BPC deeply understands the intricacies of risk and fraud management in the fast-paced world of payments, and it's important for us to share our insights with Chartris, a leading market analyst that focuses on this sector and reaches audiences that require our solutions," said Maxim Kuzin, Head of Fraud for BPC. "We are committed to continual innovation, always seeking to build on our existing technology stack. This ensures we can effectively combat evolving threats and provide our clients with the highest level of security."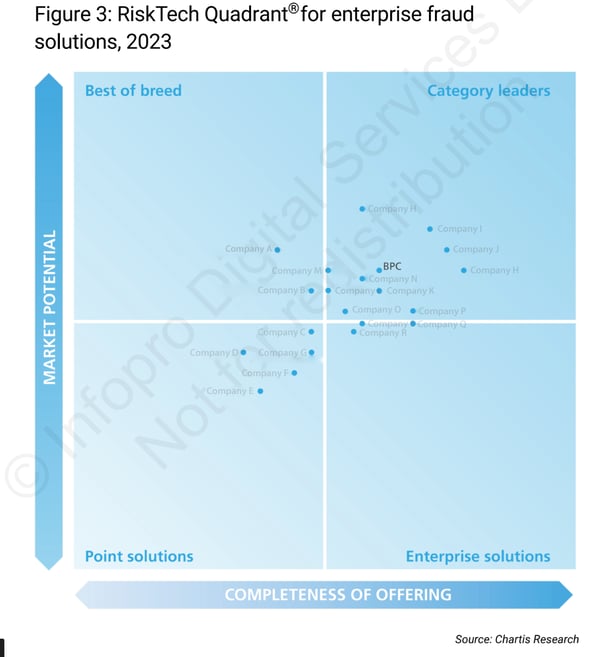 Chartis' exclusive focus on risk and compliance technology gives them a significant edge over other market analysts. Their competitive advantage is further backed by their extensive experience in developing and implementing risk management systems for Fortune 500 companies and consultancy firms.

"BPC is a true leader in this space with strength across diverse sectors, including traditional financial institutions, neobanks and challenger firms, and wide coverage of payment types and use cases," said Ahmad Kataf, Senior Research Specialist at Chartis. "Among its key differentiators are the flexibility of its risk engine and its implementation of machine learning analytics in various applications."

BPC has built a strong reputation for understanding and mastering local banking and payment context and behaviour. With 350 customers in more than 120 countries, BPC has collaborated with all ecosystem players ranging from tier-one banks to neobanks, Payment Service Providers (PSPs) to large processors, ecommerce giants to start-up merchants, and government bodies to local hail riding companies, contributing to better financial inclusion using next-generation technology.
Eager to find out more?
If you'd like to know more about this particular case or BPC's SmartVista suite, reach out to our experts.
Contact Us