Webinar - Build a Digital Bank Successfully
February 3, 2021
Watch our recent online live webinar, 'Building a Digital Bank Successfully' which took place on January 20, 2021 in partnership with marcusevans events along with our key guest speakers Alex Bakir from Rewire, Arvid Swartsenberg from TMRW, Jeroen de Bel from Fincog and Oleg Patsiansky from BPC Banking Technologies.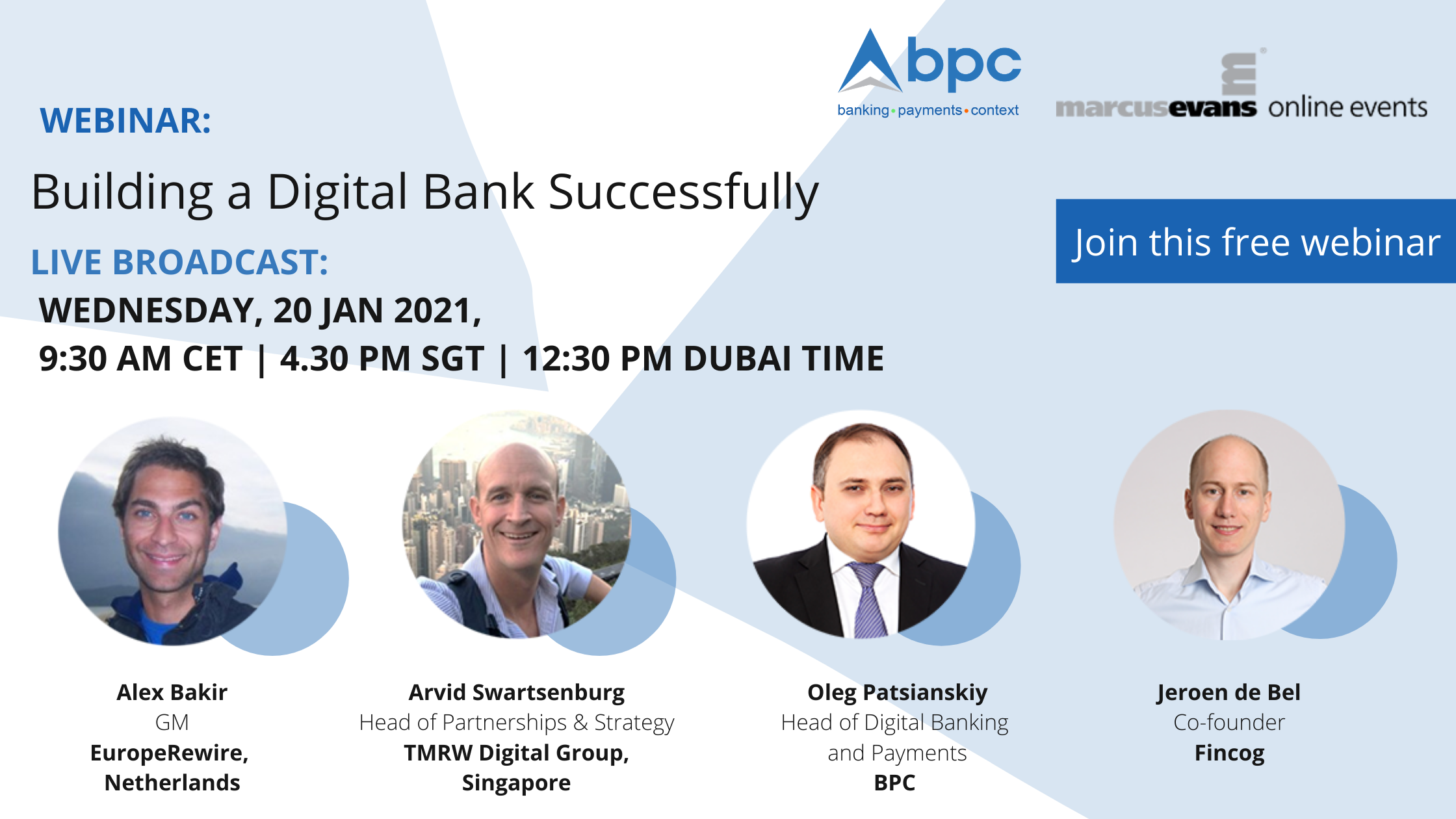 Watch the full webinar HERE
Building a Digital Bank Successfully
There has been a lot of discussion over the years on how to build a digital bank. Lately, keeping in mind the rise in digitisation, neobanks have also started to become a norm. The space is definitely competitive, and as we not only see greenfield investor backed projects coming to life, but also traditional banks finally turning around with their digital banking proposition.
Goldman Sachs and J.P Morgan are making huge investments in a very intelligent manner and are also blurring the lines of offering financial services, which are traditionally offered by banks. So the space is crowded and each digital bank has its own niche.
To discuss more on the success of building a digital bank, four pioneers from the FinTech space were present on the floor:
Alex Bakir, General Manager - Rewire Europe
Arvid Scwatsenberg, Head of Partnerships and Strategy
Jeroen de Bel, Co-founder, Fincog
Oleg Patsianksy, Head of Digital Banking and Payments, BPC Banking Technologies
Highlighting the latest trends in the digital market moving forward
According to Jeroen de Bel, digital banking continues to be a hot market with neobanks coming to life all across the globe, adapting to their respective regions. Neobank leaders such as Revolut with 12 million customers are creating history everyday with higher amounts of customers and transaction values. The first generation of neobanks were solely focusing on providing an improvised customer experience, therefore they are more selective in their offerings and business models.
Furthermore, Jeroen also speaks about the contribution of Covid-19 in accelerating the process of digitalisation of premature markets which has given a bag full of opportunities for growth to neobanks. In addition to digitalisation, the cost of launching a bank is subsiding and regulatory regimes across the world are being enlightened, thereby it becomes easier to launch a neobank. In combination, there are still many opportunities with less mature markets such as the Middle East, Africa, Latin America, and also parts of Asia.
A tech perspective in digital banking and its evolution through the years
Oleg Patsianksy, Head of Digital Banking mentions about the change that he has seen as clients majorly talk about acquiring more customers and adhere to their specific needs and segments. The main reason why they take customer needs so seriously is because ever since the pandemic, SMEs suffered massive losses due to which every financial institution now wants to cater to all segments with different types of services. Agent banking is gaining momentum right now among customers because it achieves wider coverage and it talks to the financially excluded audience who had no way of being coming under the radar of financial institutions. SMEs are considered to be a driving force for various economies in the world and it will continue to be so, in the future.
The real success of a digital bank
According to Evgenia Loginova, Chief Commercial Officer at BPC and Co-founder at Radar Payments, a successful digital bank is the one that values its customers, investors and employees. Value to the customers is something that the digital banks, primarily neobanks have actually come with and traditional banks have then followed the same pattern. Many times, traditional banks have forgotten to actually ask the customer what it's like to actually bank with them, but they've also evolved since then.
Alex Bakir, General Manager at Rewire Europe says the growth of a digital bank is measured with the number of accounts opened and the use of those accounts over a period of time. The major takeaway here is the lifetime value of a customer over cost of customer acquisition. That being said, you only get those metrics if you offer a best in class or world-class customer experience and product. Alot is also discussed around product market fit, but unless an organisation achieves that, it is going to be really hard to hit their desired numbers. A team of motivated employees play a major role in getting the company to its highest point is also a very important aspect, and he commits to the same at Rewire, Alex adds.
As per Arvid Swartserburg, Head of Partnerships and Strategy at TMRW, a lot of digital banks have done well in terms of expansion but very few are actually pouring profits back into their organisations. Arvid says success is contributed through four key factors; firstly, its to address the inefficiencies in the larger markets and secondly, its to provide digital lending as more lending means more money; it's all a game of margins. Thirdly, it's the alignment of partnerships that digital banks have with more acceleration of cross industry alliances to build customer bases and propositions around data. Lastly, it's being able to manage your costs and profitability, whether that is cloud banking infrastructure, or whether that is the utilisation of chatbots to lower cost, for instance.
Oleg Patsiansky, keeping in mind the vendor side says what people are looking for right now, are ways of keeping the customer. Therefore, sticking to the same bank and continuing to pay them for their products is what's the most important aspect. Listening to the customers on what they need and what will keep them with an organisation for a long time. Some organisations get lucky and become profit making since the very beginning, but there are also cases that have faced difficulties in order to make money. The focus is to keep the communication with the customer ongoing and keeping them with you.
Jeroen de Bel, Co-founder at Fincog thinks it all comes down to the revenue model and the customer value. For digital banks, it's more about looking at the business plan behind it and the geographical markets you're in as well as the product segments that are typically the key drive force for your potential success. To be able to have sufficient profits, it is really important to assess the market opportunity in a business case, thinking where is your opportunity, how are you going to take the opportunity, what products to what's clients segments, and thereby uniting both the customer side with the revenue side.
The go-to market strategy in various geographical presence
Arvid looks at catering to young professionals and their families in Asia. It is on the upper end of the mass affluent. So it's very much a one-bank approach that they look at from a regional perspective. Alex sees revenue coming from cross border services. So their GoTo market strategy is on a smaller number of segments as opposed to breadth trying to serve everyone everywhere.
Framework and cost around building a digital bank
It has a variety of elements with the framework also addressing what makes a bank successful and striking a balance between each element. In terms of time it takes to build a bank and how much its costs really depends on what sort of bank you like to create, what propositions, what regulatory setup, etc. It's a balance of where you want to get to, and what kind of financial results you want to show.
Key learnings
Technology is continuously evolving and a zoo of technologies is required to run a digital bank. But with the same pool of technology available, it lets third party completely take over the complexities of banking whilst the main organisation attends to business development.
Digital banks are not limited to only mobile applications anymore. The technology level these days dramatically decreases the capital expenses to start a digital bank. If there is a provider that is a professional in providing the services on the payers basis platform as a service or software as a service, even an integration platform could be provided as a service these days.